Polyaspartic Concrete Coatings
Polyaspartic floors provide many years of heavy-duty use in virtually any environment including garages, hangars, firestations, warehouses, factories, restaurants, hospitals & health care facilities, kennels, showrooms, food processing, and more. They can be applied over most concrete surfaces including previously painted, tile, or even glued down carpet. Polyaspartic not only tops off the professional look, but also resists oil, beads water, and wipes clean like a kitchen counter top.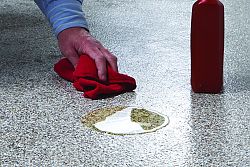 Our Polyaspartic flooring is available in color flake and solid colors. The color-flake floor offers a wide assortment of colors that burst to life and hide annoying imperfections in the concrete. Not only are the color-flake floors easy to maintain, but they have high stain, scratch, wear and UV resistance.
Benefits of Polyaspartics
Rapid curing with a pot life that varies between 20 to 60 minutes (this is why the Polyaspartic installations can be completed in one day)
High abrasion resistance (anywhere from 3-5x as abrasion resistant as Epoxy!)
Can be applied at surface temperatures from 0º F to 120º F (Epoxy can't be installed if the temperature is less than about 50º F)
Very low viscosity (almost like water—that is why it forms such a strong bond to concrete)
UV Stable (Epoxy will yellow in the sun. Rhino Polyaspartic will never yellow in the sun)
Made with very high solids content (which allows Polyaspartic to be a "green" product—made without volatile organic compounds (VOCs) that pollute the air)
Resistant to hot tire pick up and most all stains and chemicals (strong acid and methyl ethyl ketone (MEK) are the only known "kryptonite" for Polyaspartic. It is highly resistant to all other stains and chemicals)
Polyaspartic Vs. Epoxy
| Description | Polyaspartic | Epoxy |
| --- | --- | --- |
| Install time | One day | 3-4 days |
| Return to service | Next day | 4-5 days |
| Abraison resistance | 4x superior | ASTM D 968 |
| Unlimited build of film thickness in 1 coat* | Yes | No |
| Odor | Very Low | HIGH |
| VOCs | VOC Free | High VOCs |
| High solid content | Yes | no |
| Application temperatures | as low as 32° F - 0° C | above 55° F |
| Elongation / expands with surface / joint | Yes (50> Epoxy) | No |
| Color stability | UV Stable | Non-UV Stable |
| Gloss retention | Very Good | Poor |
| Chemical resistance | Great | Poor |
5 Step Application Process
Step 1: Remove old surface and mechanically open up the floor by diamond grinding.
Step 2: Address cracks and pits.
Step 3: Apply base coat and non skid additive

Step 4: Apply decorative color flakes.
Step 5: Apply top coat(s) and let dry.
Click each image below to see an enlarged view:
| | |
| --- | --- |
| | |
| Our Five Step Application Process | Polyaspartic Floor Coating Cut-Away |
Product Downloads
Rhino FastFloor™ (PDF)
Rhino FastFloor Color Chart (PDF)
Rhino Polyaspartic Color Chart (PDF)
Chem-thane DCP (PDF)
Cured Coating Properties- Epoxy vs. Polyurethane vs. Polyaspartic (PDF)
Polyaspartic Coating Chemical Test Results (PDF)
Polyaspartic Coatings FAQs
(click on the title for the answers)
What Exactly are Polyaspartics?
How is the Polyaspartic you install different than the epoxy we all see at the big box stores?