Polished Concrete & Terrazzo
Polished Concrete and Terrazzo floors are one of the most popular types of flooring today. You can transform old or current concrete slabs with the most versatile, and durable flooring surfaces on the market, all while capturing the elegance of polished marble or granite.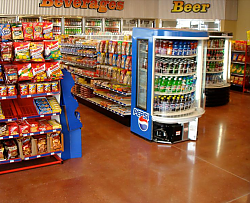 Another obvious but often overlooked aspect of polished concrete and Terrazzo flooring is that fact that you are utilizing the existing substrate. All other flooring goes on top of a substrate of some kind, and at some point will peel, flake, stain, chip, bubble, or fade. Stop the wax and strip cycle forever and save Thousands over time.
What is the Process of Polishing Concrete or Terrazzo?
Concrete or Terrazzo Polishing is a multi-step process, first using course diamond impregnated metallic disc that helps remove light coatings, blemishes, and small pits from the surface. Depending on the current state of the floor, the metal bonded disc very in grit from 16-300 grit. A number of metallic discs may be progressively used to a finer grit to achieve the proper surface to be polished. Once the initial cut is complete, a similar process using resin bonded pads is started. The first pass with resin pads is 100 Grit and goes all the way up to 3000 Grit. The finishing Grit is determined by the desired look by the client.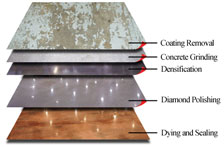 Click here to enlarge image.
Step 1: Prep
Clean concrete/Terrazzo slab to remove paint, oil spots, dirt, neural ph detergent and rinse. Repair/fill any surface cracks.
Step 2: Grinding
Multiple passes are made with various Metal Bond Diamonds to bring the concrete/Terrazzo to a uniform finish.
Step 3: Densification
A densifier is added during the process to increase the abrasion resistance of the floor and to eliminate dusting on concrete.
Step 4: Polishing
Multiple passes of Resin Bond Diamonds are used to polish the floor to the customer's required level of gloss. A concrete floor is considered polished after the 800 Grit Resin Diamonds. You can take the polishing all the way to 3000 Grit Resin.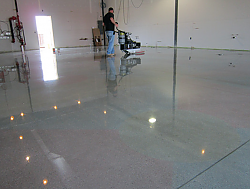 Step 5: Dying
Penetrating dyes can be added during the polishing steps to give concrete a particular color. Multiple colors and saw cuts can be used to create unique designs.
Step 6: Sealing
A penetrating sealer is not necessary but can be added to protect from highly acidic, or harsh chemicals that can stain or etch concrete.
Step 7: Burnishing
Burnishing the floor with a "hogs hair" pad will bring out its natural shine.
Step 8: Job Site Cleanup
Polished Concrete and Terrazzo are the Real "Green Solution"
As rigorous standards of sustainability continue to rise and the construction industry's quest for environmental-responsibility continues, finding affordable, sustainable building products will become a necessity for new construction, additions, renovations and remodels. Natural, durable and beautiful polished concrete and Terrazzo flooring is sure to become a widely-used application, and though it may be wrapped in a gray package, polished concrete and Terrazzo flooring is an intrinsically green solution! Here's why: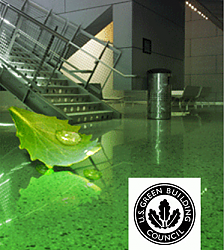 Dematerialize the Project
Concrete is a fundamental part of every construction project - whether new construction or a remodel. Adding any extra material to a project results in greater expenditures and environmental stressors such as harvesting, manufacturing, refining and transporting another product to the job site. Finishing the floor by simply polishing the existing concrete material avoids these stressors while substantially decreasing the environmental footprint of the project, and saves on everything from natural resources to the pollution and costs associated with shipping.
Reduce Airborne Contaminants and VOCs
Up to 30% of the population have chemical sensitivities. Stemming from the "sick building syndrome" of the 1970s, indoor air quality is one focus of green construction. Polished concrete contributes no noticeable VOCs in the construction process, improving the indoor air quality.
Optimize Energy Efficiency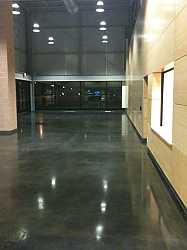 The reflective nature of polished concrete and Terrazzo reduces the amount of artificial illumination needed by maximizing the natural and artificial lighting already in use, thus improving energy efficiency of the lighting system as a whole.
The thermal mass gained from constructing with concrete, including walls and exposed concrete floors, in conjunction with passive solar design principals, moderates the daily temperature fluctuations, reducing the load on HVAC systems.
Concrete Polishing FAQS
(click on the title for the answers)
Why Choose DPDG ?
Why would I polish concrete or Terrazzo instead of coat it with a high quality sealer or epoxy?
How often does a polished concrete or Terrazzo surface need to be washed?
What is the long term benefit of polished concrete and Terrazzo?
What makes polished concrete and Terrazzo so durable?
Is polished concrete expensive?
Can a polished concrete slab be colored?
How do I know if my concrete can be polished?