Concrete Coating Solutions for Fire & EMS
Welcome to the industry leader in high performance floor coatings for Fire Station floors & EMS garages. At Diamond Polished Design Group Inc., we specialize in the highest grade floor coatings for Fire Houses and EMS Garages in the greater mid-Atlantic region including Virginia, Maryland, Pennsylvania, Raleigh, Charlotte, South Carolina and Atlanta. Highly specialized installation techniques and superior chemistry ensure our fire station floor coating is the most durable and the best value in the market today, guaranteed. http://www.youtube.com/watch?v=9oOc9-EkjNU
The Superior Alternative to Epoxy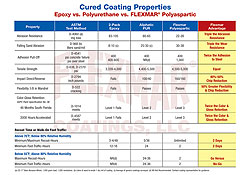 Click here to enlarge image.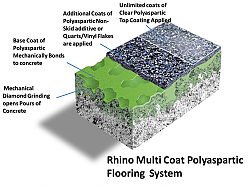 Click here to enlarge image.
Don't sell your coating project short by choosing a substandard epoxy coating or an epoxy covered by urethane. Rhino Polyaspartic outperforms them all.
Don't be fooled by "systems" with fancy numbers, multiple flooring options and inferior products covered up by superior ones saving other floor installers money and costing you in the long run. Substandard epoxy simply cannot compare to Polyaspartic technology.
A Polyaspartic coating floor lasts much longer than traditional paints, sealers, urethanes and epoxies. The added traction and light reflectivity improves safety and provides world class first impressions along with chemical and petroleum protection. Years of research, superior formulations and time tested installation techniques guarantee your Polyaspartic concrete coating will stay bonded under the intense heat of hot vehicle tires and daily abuse. A non slip additive is applied to every coat of our proprietary four coat system.
Polyaspartic Vs. Epoxy
| Description | Polyaspartic | Epoxy |
| --- | --- | --- |
| Install time | One day | 3-4 days |
| Return to service | Next day | 4-5 days |
| Abraison resistance | 4x superior | ASTM D 968 |
| Unlimited build of film thickness in 1 coat* | Yes | No |
| Odor | Very Low | HIGH |
| VOCs | VOC Free | High VOCs |
| High solid content | Yes | no |
| Application temperatures | as low as 32° F - 0° C | above 55° F |
| Elongation / expands with surface / joint | Yes (50> Epoxy) | No |
| Color stability | UV Stable | Non-UV Stable |
| Gloss retention | Very Good | Poor |
| Chemical resistance | Great | Poor |
Superior Strength & Durability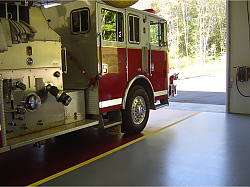 Ideally suited for the heaviest aerials, tankers or pumpers, our product has been designed and tested to meet the rigid demands of today's firehouse floor resurfacing projects. Our reputation has been built upon utilizing outstanding firehouse flooring materials, so you can confidently park your apparatus on them for decades to come.
All of our floor Polyaspartic products meet the most rigid Federal, State and Local VOC laws. These concrete floor surfaces provide maximum chemical resistance, are easy to clean yet safe, and have been formulated to satisfy all the demands and expectations of today's fire station community. Each and every concrete resurfacing installation is backed by our exclusive five year peeling and delimitation warranty. Performance bonds can ensure your warranty is backed up.
Why Polyaspartic?
Abrasion and impact resistance
Chemical & stain resistance
UV resistance
VOC's free
One-day installation
24-hour return-to-service
5 year warranty
Lowest prices in the industry
Professional Installation Team
The true strength of Rhino lies in the expertise of our floor resurfacing installation teams. Using the latest equipment and proven installation techniques, our craftsmen install a masterpiece with every firehouse flooring project by incorporating a professional dedicated work ethic.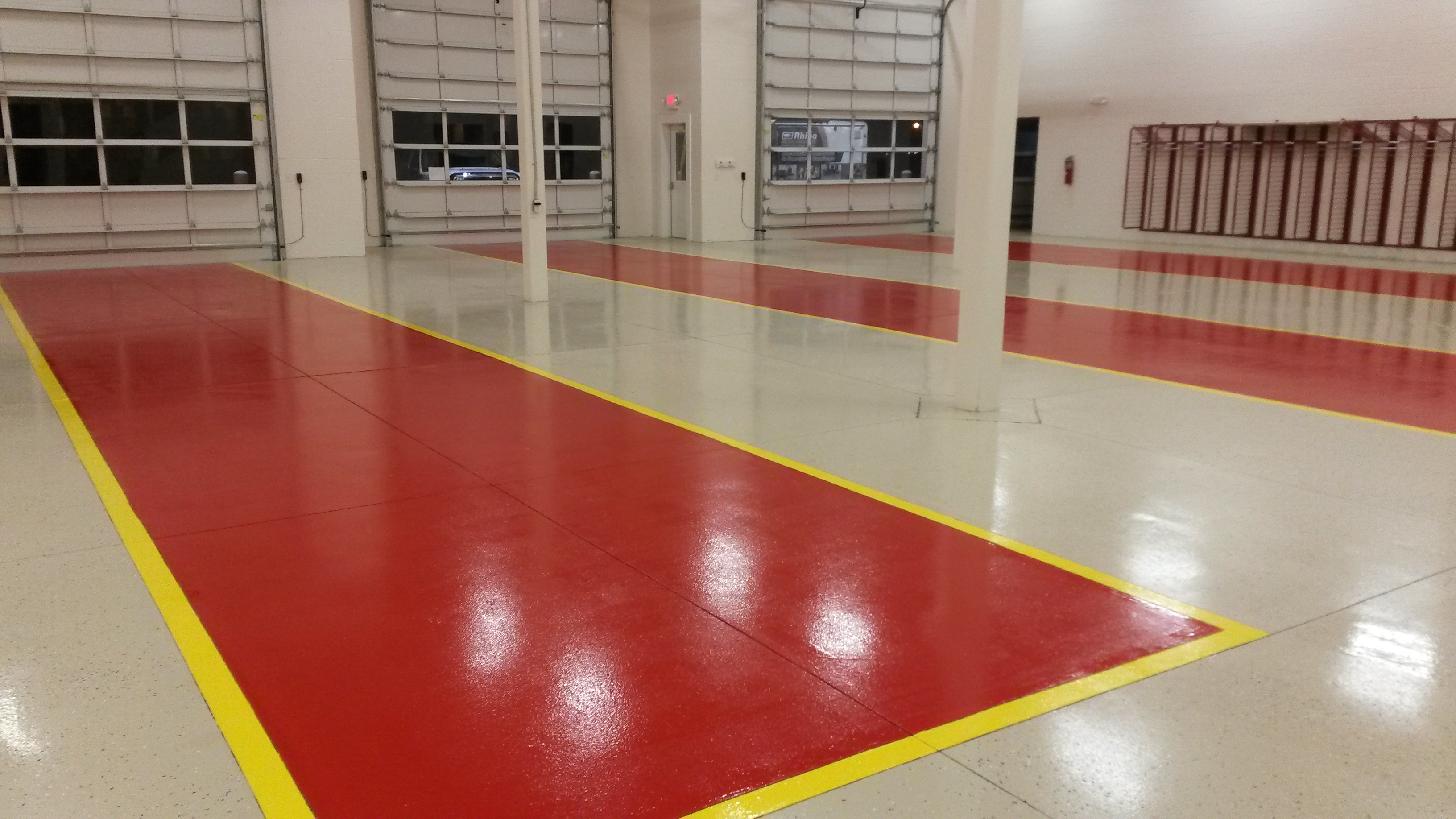 Rhino is the exclusive installer of Polyaspartic coatings for Fire and EMS. We can confidently say that we have installed more polyaspartic floors in Fire Stations than any other installer anywhere in the United States. Due to our close relationship to the manufacturer of our products we are able to offer the lowest price on Polyaspartic in the industry. Contact us to learn more about how a true 100% full Polyaspartic floor, not a cheap epoxy knockoff. Don't leave your expensive project to chance, call us.
Product Downloads
Rhino FastFloor™ (PDF)
Rhino FastFloor Color Chart (PDF)
Rhino Polyaspartic Color Chart (PDF)
Chem-thane DCP (PDF)
Cured Coating Properties- Epoxy vs. Polyurethane vs. Polyaspartic (PDF)
Polyaspartic Coating Chemical Test Results (PDF)
Polyaspartic Coatings FAQs
(click on the title for the answers)
What Exactly are Polyaspartics?
How is the Polyaspartic you install different than the epoxy we all see at the big box stores?