Industrial Concrete Solutions
Diamond Polished Design Group Inc. provides affordable concrete solutions to customers in Virginia, North Carolina and South Carolina. We pride ourselves in working in active manufacturing environments leaving you with the minimum amount of disruption possible.
We offer solutions for your industrial manufacturing environment including :
Polyaspartic and Epoxy Coatings
Using Polyaspartic coatings, the industry gold standard in floor coatings, or Industrial !00% Solids Epoxy we can protect as well as add functional beauty to your space.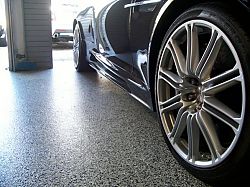 Benefits include:
One Day Install*
Eliminates Hot Tire Peel
Decorative Paint or Quartz Chips
Retains Gloss and Color Stability
USDA Approved
100% UV stable
Easy to clean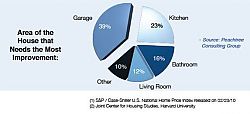 Click here to enlarge image.
Learn more about Polyaspartic concrete coatings.
Industrial Concrete Polishing
As rigorous standards of sustainability continue to rise and the construction industry's quest for environmental-responsibility continues, finding affordable, sustainable building products will become a necessity for new construction, additions, renovations and remodels. Natural, durable and beautiful polished concrete flooring is sure to become a widely-used application, and though it may be wrapped in a gray package, polished concrete flooring is an intrinsically green solution.
Polished Concrete are one of the most popular types of flooring today. You can transform old or current concrete slabs with the most versatile, and durable flooring surfaces on the market, all while capturing the elegance of polished marble or granite.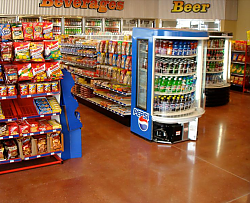 Another obvious but often overlooked aspect of polished concrete is that fact that you are utilizing the existing substrate. All other flooring goes on top of a substrate of some kind, and at some point will peel, flake, stain, chip, bubble, or fade. Stop the wax and strip cycle forever and save Thousands over time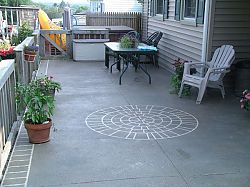 Benefits include:
Less expensive in large areas than coatings
Easy maintenance and cleaning
Flat and even surface better suited pedestrian and wheeled traffic
Ability to stain dye or apply logos
Increased light reflectivity
Decrease in Dusting of concrete
Interior Concrete Solutions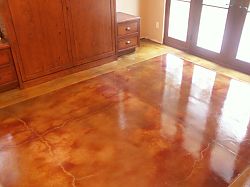 Using concrete stains and dye we can transform your concrete into a luxurious floor resembling marble or glazed stone. Stained and scored, it creates the appearance of expensive flooring at a fraction of the cost. Each concrete slab accepts the stain in varying degrees of intensity, creating stunning multi-hued color variations for a perfectly aged look that will not chip, crack or peel.
Learn more about stained & dyed concrete.